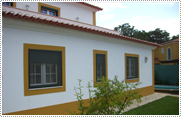 Modern design meets beautiful traditional Portuguese style. Built in 2003, you'll find all these modern amenities and more:
- recessed lighting
- full modern kitchen and utility appliances (view picture)
- spotless cleaning service
- central heating
- dehumidifiers
- custom touches (view picture)
- groomed lawn and garden
- fly screens for all windows and french doors

Master Bedroom
Privately located upstairs, the master has its own private bathroom and large closet space for him and her. There is private access to the balcony gained by two sets of french doors with drapes and shutters. Along with the queen bed, you will find a work desk and reading chair.

2 Double/Twin Bedrooms
With ceiling fans and windows, the two bedrooms are large enough to hold two twin beds and closet space for those sleeping within. The bedrooms share a hallway with a large bathroom.

Living Room
The living room boasts a large fireplace and 2 couches with seating for six surrounding a large coffe table. Entertainment comes in the form of a large satellite TV with a Bose speaker system and DVD player. Access to the front patio is via windowed french doors.

Dining Area
Eat together at the 6-seat dining table with a lighted ceiling fan. The dining area is in view of the TV and has its own access to the fron patio via another set of windowed french doors.

Back Patio
Enjoy a meal outdoors with the backyard table. Take in the rays in a sun lounger and grill up some bbq on the Spanish brick grill.

Outdoor Jacuzzi
The jet-massaging jacuzzi and seat4 comfortably. Slip into the heated jacuzzi and turn on the multicolored lights for the perfect ending to the perfect day.

- Homepage -
Head back to the homepage
for general information on the Praia Del Rey villa.
- Reservations -
Paradise costs less than you think.
Check our going rates and availabilty. Here you will find all the booking information you need.
- Things To Do -
As if being in Praia Del Rey weren't enough.
Explorer the local area attractions and start planning your next vacation.



Location
- set within a quiet villa neighborhood of the resort
- near the resort tennis club
- 10 minute walk to the beach
- Multiple beach access points in the resort
- 5 minute walk to the golf clubhouse
- 10 minute walk to the Praia del Rey Marriot

Services
- maid service
- "call-in & pick-up" food order service from clubhouse
- excellent on-call assistance from on-site resort office